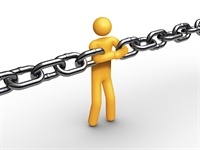 This may sound familiar: HR finds out that an employee has left the company when Payroll runs a Zero Hours Report and reviews those employees listed who haven't received a paycheck in the last six months. Or a new hire calls HR to ask a question and the person answering the phone hasn't a clue who the caller is or his start date. HR then sends an email reminding the company of the standard procedures for on-boarding and off-boarding employees, yet compliance remains inconsistent.
It's a fairly common challenge for HR professionals to gain alignment company wide on external regulations and/or internal policies and procedures. Hiring Managers don't purposefully choose not to comply, often times they don't share the same view of priority with HR on these matters so it can tend to fall down their list of to-do's. Try these three tips to help HR build better partnerships with Hiring Managers, and gain a number of benefits, one of them being better results in supporting all employees throughout their respective lifecycles.
Survey Says. If you'd like to better understand the hiring managers priorities when it comes to employee support, ask them! Using an online survey tool like surveymonkey.com (which is offered at a low cost and very effective) allows HR professionals to solicit insight across the company, compile data for analysis and report back to the company the top needs as defined by hiring managers.
To craft the survey, ask the respondents to rate each service HR provides as either highly valuable, valuable, not really valuable and as well how important each is to the hiring manager in terms of his/her own job responsibilities. You'll quickly learn both what hiring managers need and by each, how well the department is currently delivering it across the organization. You can also ask if there are areas of support that currently aren't provided but the hiring manager would appreciate having and conversely if there are things HR is doing that the company doesn't think are necessary.
By asking both types of questions, HR professionals can objectively identify what's working and focus improvement efforts on what's not.
Walk A Mile In Their Shoes. An easy but extremely important tactic toward building a better relationship is to routinely visit managers at their locations. Being able to experience "life on the lot" first hand provides a unique perspective in understanding how HR's scope of services is woven into any given day. When touring a location, put your student hat on and ask open-ended questions regarding the client relationship, the different types of customers the facility serves, and the technology used for access, revenue reporting and control. You'll quickly learn the types of skills needed to perform the various jobs at the location.
With this education, you can review your recruitment and hiring practices (and overall support) to evaluate how closely these HR practices align with the job expectations. It's not uncommon for HR practitioners to adjust their programs in these areas after they experience first hand what it's like to work at a location.
If you do decide to implement this type of program, be sure to visit a variety of locations at different times of the day, and different days of the week. No two locations are identical and so you may learn that an aspect of HR support is very important at one facility, isn't that high on the list at another. And bonus to the HR Professional: if you institute these visits as part of your department's routine tasks, and demonstrate genuine interest in the hiring manager and employees' while on the lot, you'll earn a different level of respect from your colleagues across the company.
Include the "Why". If you find yourself caught in a never-ending cycle where HR distributes a policy that requires compliance, or a form that must be signed and returned, really any item that needs the hiring manager's participation to complete, yet it doesn't get done, look for the "why" in your communications.
Why represents the logic and the benefit, from the hiring manager's perspective, behind the request you're making. Many times if adults don't understand the significance attached to these types of request, they simply forget about it and move onto the next. If you explain, with details, the benefits the individuals involved gained (or the potential risk due to non-compliance) hiring managers will view the ask differently and subsequently, treat it with a higher priority.
By putting these easy to use tips in place will drive higher compliance and help support HR professionals further establish a better business partnership with their colleagues across the organization. If you're interested in learning more about other best practices to support the employee life cycle, be sure to check out The Marlyn Group's HR Exchange forum being offered next month. For more information refer to the HR Exchange announcement found in this newsletter or go to www.marlyngroupllc.com, where you'll learn more about the forum and other resources we provide parking professionals across the industry.