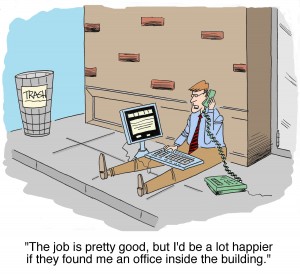 Think back to your first few months working for your current company and others you've worked for in the past. What do you remember? Did your experiences motivate you or leave you feeling disengaged? Were you able to immediately begin contributing or were you putting more effort into your exit strategy? An organization's onboarding program has tremendous influence over new employees impressions and experiences with their employer and your memories – good and bad, are a reflection of that.
This quarter's HR Parking Exchange discusses essential components of effective onboarding programs that improve employee retention, reduce the time it takes for an employee to become productive, increase employee engagement and discretionary effort and make your company look good in the eyes of employees and everyone they talk to about their jobs.
What does your company do with respect to employee onboarding? Complete this brief survey to tell us more. During the webinar we share the survey results, discuss leading practices that deliver results across many industries and insight from our proprietary database for parking peer comparative purposes.
If you have a role with developing and/or delivering your company's onboarding program, join the conversation with your industry colleagues by registering here for this live event that will occur on February 25th at 2pm EST/11am PST.