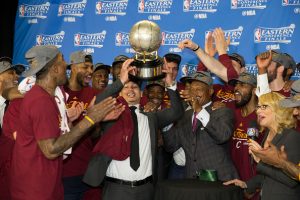 While tempted to write a page and half about how amazing it is for a Cleveland fan to finally see "the curse" lifted with the Cavs winning the NBA Championship this past Sunday, I think as importantly is to acknowledge the lessons any leader who is interested in improving her craft can glean from this particular finals series.
What You Do Is More Powerful Than What You Say. The NBA, of all professional sports, loves trash talk. It's part of the game. What a leader can learn is the more essential part of the equation, you better show up and play. Those individuals who demonstrate their leadership through their own behavior, how they model themselves in a meeting or a one on one is how they'll see their own team act in similar situations. Your people may listen to what you have to say, however they'll make decisions and lead their own teams by following what you do.
Speaking of Communications...Win or lose, either coach during the post-game press conferences gave reference to the value of effective communications – how it lifted the team or contributed to the loss. Successful leaders take the time to engage their team through interactive dialogue, understanding that by doing so, they demonstrate those well-known core competencies: transparency, inclusion and ownership. When team members trust in what's being shared, feel they are part of a larger goal and understand their own role in the outcome, performance goes from meeting to exceeding expectations in a flash.
The Best Leaders Are Coaches First. If you were dialed into this series at all, you know the Cavs faced adversity on a number of fronts throughout: they were the undisputable underdog, didn't have home court advantage, Kevin Love's struggles, the Curse of Cleveland loomed, on and on we go. Tyron Lue was able to keep all that at bay and coached the game of his life in Oakland on Sunday. The very best of the best in leadership know what's against them in those times of challenge, but they don't let it dictate what they do next and focus instead on how they'll rise above it. They remain the coach to their team, creating options to solve a problem, hold themselves personally accountable and pulling the team together with an undertone of "yes, we can".
Signing off from the home of the 2016 NBA World Champions – go Cavs!