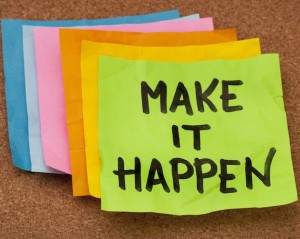 A few weeks back my business partner Vicki posted a blog that gave tips to newly hired/promoted leaders on how to successfully establish their role during onboarding. Once that time has come and gone, it's pretty typical for these leaders to find themselves with a long list of projects they want to initiate and the million dollar question at that point is: what's the best next step? Use the following three tips to get off on the right foot by making meaningful change while defining your leadership profile with your team and across the organization.
Pick One. In our executive coaching practice we're a broken record on this insight. While new leaders see so much that can be done now, we strongly encourage them to pick just one top priority. Why? Because while it's easy to start any given change, the challenge lies in ensuring the change is actually embraced and adopted by all the key stakeholders involved. Trying to achieve this vital step in the process can be a challenge unto itself and if a leader attempts a number of changes on multiple fronts, the potential for their employees to lose sight of what's happening when goes up with every goal added to the list.
Adults Aren't Big Fans of Change. While we like to talk about changing status quo around the conference table, when it comes time for the heavy lifting and actually doing any given change forever more, it's fairly common for those same team members to struggle and lose focus on the value behind the effort. By focusing in on one goal, it's much easier for the leader to guide her team through the change management process to ensure each reaches steady state and the change itself becomes routine.
The Goal Reflects Your Leadership Style. Throughout the process of identifying a goal to then develop, execute and adopt the subsequent deliverable, team members are constantly evaluating their leader's style. Having too many goals on the run right out of the box breeds the potential of some of them not reaching completion, which is also a reflection of your leadership style. So go for one, do it "right" from start to finish and your team will define you as in individual who meets commitments, holds all into equal account and gets stuff done.