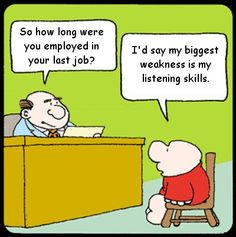 So! You've just finished an interview, the candidate answered most of the questions the "right way" and yet there's something in the back of your mind that leaves you a bit ambivalent as far as what to do with him next – move him forward, schedule another interview or let him go? Hmph.
When evaluating candidates post-interview, reviewing what their responses were in the literal sense is as important as evaluating their approach toward the questions, the level of detail given, tone taken, etc. Use the below three typical indicators to help evaluate candidates from a holistic perspective the next time you have them sitting opposite of you.
Answering the question asked vs saying what they want. I asked a candidate last week to list, of all of the achievements he had accomplished in his career, those he was most proud of and why. He proceeded to explain to me the benefits of a front line employee training program. Huh? I have found many drivers to this little mis-communiqué, most commonly either the candidate is simply not actively listening or he wants to make sure what he wants to say gets wedged into the interview. In these situations I become very focused to see if either repeats itself and becomes a pattern throughout the session which would indicate a behavioral profile that I may or may not want to advance.
Interviews vs conversations. Generally speaking, when interviews turn quickly and organically into a conversation to me this is a very good indicator that the candidate is a subject matter expert in his area of responsibility and is able to be very present within the meeting. Both of which are strong characteristics of a high potential performer. If I feel like I'm pulling teeth to get the candidate to articulate with some degree of detail what he's accomplished and how, perhaps he could be either really introverted or maybe reaching a bit too far for that next step. In those situations I need to explore much further and gain clarity, in very specific detail, what the candidate actually does and delivers within his current position.
Running toward your opportunity vs. running away from their current position. I'm sure more than a few of us have been caught in an interview where the candidate goes on and on and on about how awful his current job, company or boss is. I call this the "running toward vs. running away test". When this dynamic appears I start asking questions that require the candidate to articulate in very plain terms why he wants the particular opportunity I'm sourcing and not just looking for an escape route. Time and time again it's been proven those folks who aren't able to articulate exactly what they're searching for in their next job likely won't be super satisfied when they do make the move.
If you'd like to explore ways we can help you with your recruitment needs or just want to have a chat about options, feel free to reach out to The Marlyn Group at letsconnect@marlyngroupllc.com.