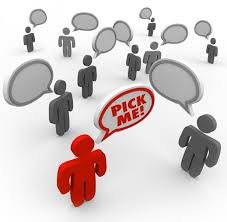 We've been doing A LOT of recruiting on behalf of our clients lately here within the halls of The Marlyn Group and meeting with so many candidates through the various steps of the process has reminded me once again that no matter the generation, the position, the part of the country I'm connecting with, there still remains a few truisms when it comes to making a good first and lasting impression.
Small Things Count. Resume typos are noticed. Showing up five minutes late to an interview is still a strike against you. So is sending a thank you note with the wrong employer's name listed. If you just can't review your own documents, again(!) ask a trusted colleague or friend to edit for you to ensure that any communications you send through your interview process are accurate and error free.
Video Interviews are the Same As Across The Table. I don't know why, but it's fairly common for candidates to show up to a video interview in a t-shirt and jeans and as one recent individual chose, to blow bubbles with his bubble gum throughout the conversation. Maybe because more and more people are connecting with family and friends over Face Time or Skype the casual tone carries over into an interview but the reality is this: whatever you believe the etiquette to be when you walk into your potential employer's corporate office remains exactly the same if you're on the phone or video. Be a few minutes early, dress appropriately, and be ready to participate in a business-based discussion.
Ask Questions. To best prepare yourself for an interview, look at the company's website, research industry news related to the products and services offered and know the key players involved with your particular recruitment process. And as you study along, jot down all sorts of questions that you genuinely want to know: from the big strategic, to the small tactical inquiries and then be prepared to ask during and at the end of the interview. It's quite confounding for a recruiter to ask the candidate if she has any questions and hear "not at this time" in response. These candidates probably don't realize they may be implying that they care very little about the career opportunity when giving this type of response.
Connect Everywhere. Go beyond the Career Builder and Monster sites when searching and rely equally on your own network. Clearly Linked In is the best avenue to introduce yourself to peers in your profession and reconnect with colleagues. Also search for recruiters in your industry or city and feel free to introduce yourself. Some of the best candidates we've received have come through LI connections and our website's Recruitment page (insert shameless plug here: www.marlyngroupllc.com). Get creative with expanding your network and you'll be exposed to so many different opportunities you wouldn't have seen otherwise.