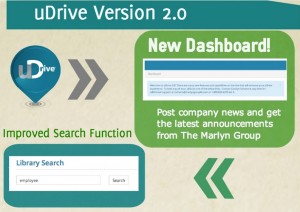 uDrive 2.0 went live on May 5th and the new features and functions have been well received by uDrive nation. You may have noticed when you logged on the first time to the site that you landed directly on your new dashboard. The Marlyn Group's latest news is shown in blue and your company administrator can post announcements that appear in green. The Human Resources and Training & Operational Support libraries are arranged by employee and location lifecycle, but your organization can now create and/or upload custom folders and documents to either library or their sub-libraries. You can easily spot the custom files and folders because they will be green just like your company announcements. Likewise, we want you to be able to quickly find the most recent files that are continually being added to the site. Now whenever a new file is uploaded or created, it will have a "NEW" tag for 30 days.
There are a few new tabs below the libraries. First, the Resource Center now houses all of the whitepapers, webinars and tools that you receive as a subscriber in one place. Below that is the new Library Search function. To look for a file, type in a word associated with what you are looking for and it will scan all the libraries you have access to and pull up the files that have been either tagged with that search word, or contain the word in the title or description. Search results are organized by library.
For users, additional tabs include the FAQ section, a quick reference guide, and a final tab with a link back to either your company's website or intranet. If you are an administrator, you also have an Announcement tab where you can easily add the latest news and pick one or all of the four optional pages display your post for your users. Next, is the companies tab where you can edit your last tab and your organizations' information. Then is the users tab, where you can add unlimited users from your company. The final tab as I mentioned earlier is your choice, you can link with your intranet, or your company's website or any website that you would like easy access to.
We are thrilled the website is now up and running! We had asked for you feedback during the development and we really tried to integrate many of your great suggestions. We know the updated uDrive will make your work more efficient and productive. If you have any questions or comments, please contact, Carolyn Scharte, CPP, Director of Business Development at CSCHARTE@MARLYNGROUPLLC.COM.
(On a side note, I put together a little info graphic about the new features as well! Check it out HERE.